Carolin and Alexander Toskar will be back holding Divine Straightening sessions at Lotus Star.
Divine Straightening at Lotus Star, #48 Crystal Garden, Sukhumvit Soi 4, Bangkok
http://www.divine-straightening.com/en/home.html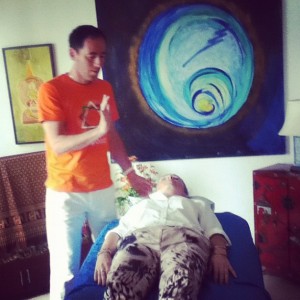 Spiritual Healing Sessions: –Introductory group talk
followed by individual treatments on the treatment couch
25 Jan 2020 9:30 – 12:30
25 Jan 2019 14:00 – 17:00
26 Jan 2020 9:30 – 12:30
26 Jan 2019 14:00 – 17:00
For booking contact: vicki @ lotus-star.com LINE id: mayvicki Tel: 081-618-8653
The spiritual healing session includes:
~ introductory talk in the group
~ Divine Straightening and individual healing on the treatment couch
~ spiritual heavy metal eradication
~ linkage of healing powers – Assistance for self-treatment
With the initiation of the will to heal and to support the spiritual health.
Divine Straightening creates the balance and spiritual order on physical, mental and emotional issues and passes the impulse for powerful regeneration- and selfhealing processes.
Cost: Healing Session for Adults:
2,500 Baht per person for first timers
2,000 Baht for Follow up
Children (up to 16 years): 2,000 Baht
Babies free of charge.
*A part of the proceeds go to an aid organization in Thailand.
Please note: The healer is neither practitioner nor naturopath. Divine Straightening is not work in a medical sense, but a spiritual process. The healer does not make any healing promises.
The Divine Healing / Divine Straightening does not replace a medical treatment in case of mental or physical illness or any suspect of disease. The attendance is voluntary.
For more info, watch the Divine Straightening trailer here:
Divine Straightening
Effects: Freeing and straightening of the spinal column and spiritual correction of pelvic tilt without touching the body. Resolving of prenatal and life patterns, correction of the life axis, re-creation of the balance on physical and mental issues and emotional stress, passing of impulses for powerful regeneration and self healing processes.