Welcome to Lotus Star!
Lotus Star -Conscious Wellbeing in Bangkok, is promoting wellness through educational workshops, sales of bio energy products and energy scanning equipment.
How can we help you with our products?
The energy products balance and energize your body so it recovers its ability for self healing and thereby maintains youth and strength to resist physical and mental diseases.
QUANTUM CHAKRA BALANCING is the latest and most powerful energy treatment for therapists, acupuncturists, spa therapists, doctors, home users etc. It is energizing and balancing body, emotions and mind. It is very simple to do treatment on others or on yourself. Read more...

PROGNOS uses a computerized program based on traditional Chinese Medicine (TCM) to measure the meridian system.
VITALISER water treatment bio shell. When liquid is passed through the Vitaliser bio resonance field it transforms the chaotic molecular structure of untreated water into pure "absorbed" living water with highly organized structure. This water has many positive benefits for health, home use, agriculture, aqua culture, and industrial uses. Read more...

---
Latest News
Carolin and Alexander Toskar will be back holding Divine Straightening sessions at Lotus Star. Divine Straightening at Lotus Star, #48 Crystal Garden, Sukhumvit Soi 4, Bangkok http://www.divine-straightening.com/en/home.html Spiritual Healing Sessions: … [Read More...]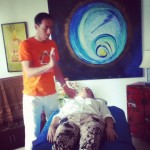 Carolin and Alexander Toskar will be back holding Divine Straightening sessions at Lotus Star. Divine Straightening at Lotus Star, #48 Crystal Garden, Sukhumvit Soi 4, Bangkok http://www.divine-straightening.com/en/home.html Spiritual Healing Sessions: … [Read More...]
Guided meditation by Vicki: Healing Chakra Balancing Meditation. Tuesday 22 Mar. @ 19:00 - 21:00 Crystal Garden # 48, BB Floor Sukhumvit Soi 4 This meditation removes stress and replaces it with inner balance and peace. You are taught the best ways to … [Read More...]